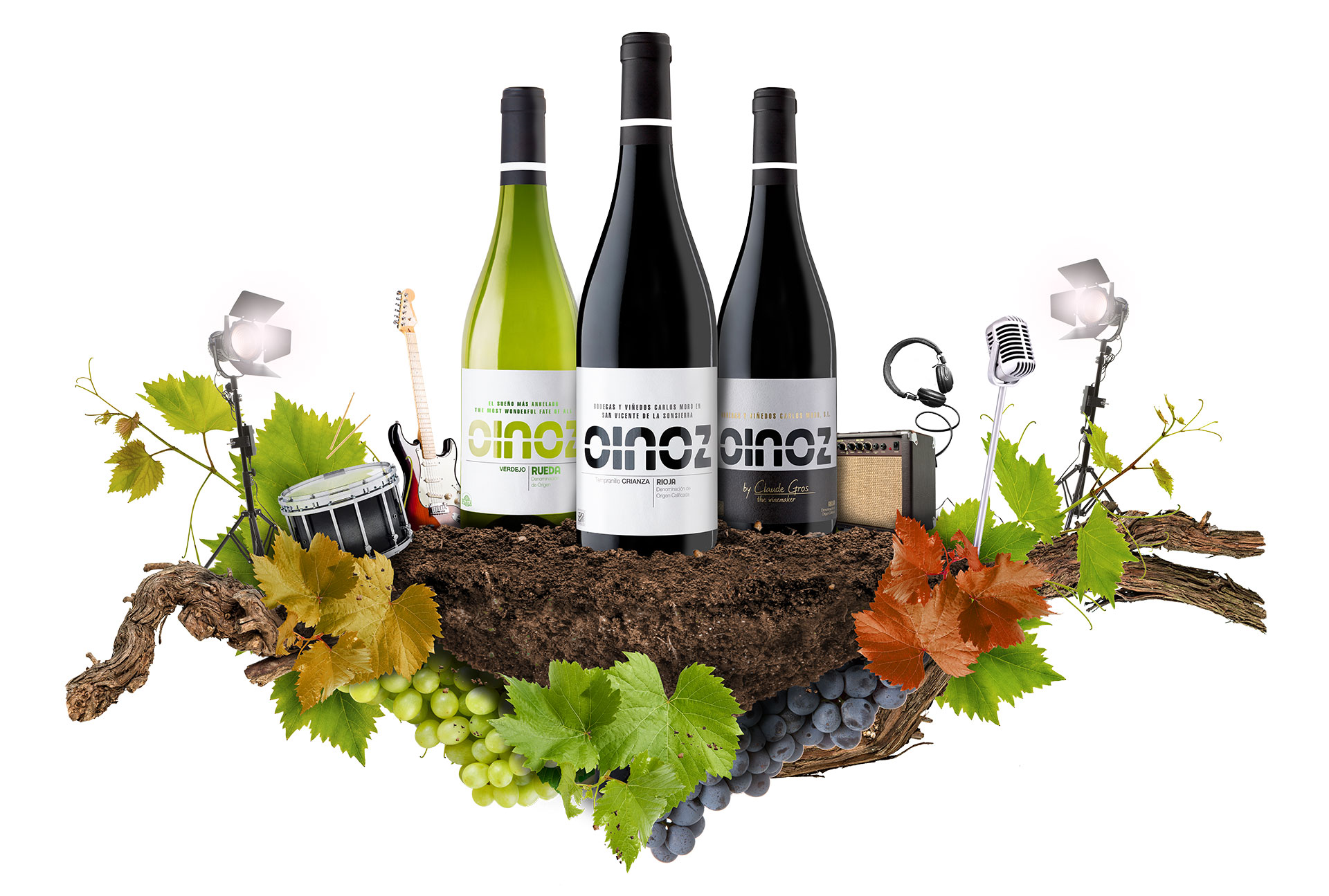 THE EARTH DEFINES OUR CHARACTER; SOUND DEFINES OUR SPIRIT.
WE MAKE THREE WINES WHICH USE MUSIC TO BREAK THE RULES AND DELIGHT THE SENSES WITH A DIFFERENT KIND OF PROJECT.
OINOZ IS MUCH MORE THAN WINE; IT'S A WAY OF LIFE. THIS IS OUR STORY.
CARE TO JOIN US?
OINOZ

is a trio of wines that burst onto the scene in 2014, an unpretentious project defined by direct sound. Like OINOZ, some of the most famous music bands are trios. Each member has their own personality, but they complement each other perfectly. Surely, there are songs you associate with unique moments in your life, and, if you pair them with wine, they're even more enjoyable. With their first release, "Rioja will never be the same"

, the group demonstrated that being rebellious and reaching a large audience don't have to be mutually exclusive concepts; that a free spirit isn't someone who contradicts, but someone who finds their own way. And OINOZ has succeeded in this.


"A wine band with its own style and sound."


The band presents their latest work under the title

"Wine Rocks"

, a declaration of principles that represents evolution at all levels, compared to their previous material.
We want to accompany you through life, share in your favourite moments, and make them even more memorable. It would be extremely unjust for a toast not to evoke all the senses, which is why OINOZ believes in music. A sensory celebration to be enjoyed by sight, smell, touch, taste, and hearing. Wine is not just to be drunk; it's to be experienced!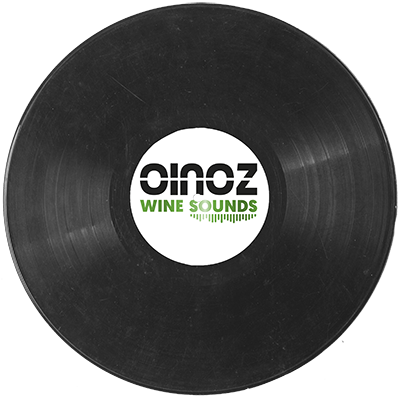 MONEY
01:32′
This song has the Claude Gros seal. A mid-tempo song with a strong, rhythmic guitar baseline and a typical Oinoz counterpoint. Verdejo originally composed the baseline on the piano, which was then replaced by guitar.
The song is a powerful portrayal of Claude Gros' hardest moments; the rollercoaster of emotions brought on by the breakup with his first love.

BORN WILD
01:16′
This song is fast, direct, rough and rabid.
The first chords were written by Crianza during his gap year. Legend has it that, one day, while he was busking as a street musician, someone stole his day's takings. With no money to pay for a place to sleep that night, he unleashed all his built-up rage. Later, the other members of Oinoz added in their own arrangements, giving prominence to the melodic bridge with hard stanzas.

LET'S WINE
01:20′
A hit in every sense of the word, with influences from all three members of Oinoz.
Right from the start, we're faced with a completely new kind of song. The soft, relaxing rhythm of the ukulele adds a peaceful yet colourful sound. "Let's Wine" speaks of hopes and dreams. An internal meditation at a vital moment for each of us, where we must decide between what we want and what we really need.
If we're lucky, they're the same thing.

THE WAYS OF THE LORD
01:09′
This is like a hymn. A song to listen to at certain points in your life. Some of the first chords were improvised by Crianza in his studio during his first year of university. Now with Oinoz, Claude Gros suggested giving the song a heavier rhythm with a baseline that fit the melody like a glove. Verdejo adds yet another distinct touch with a Hammond organ that lurks almost hidden beneath the surface, but without which the song would not be what it is.
This is usually the song chosen to close out our concerts.
POUR YOURSELF A GLASS OF OINOZ AND ENJOY OUR PLAYLIST ON
OINOZ
ON INSTAGRAM
LET'S WINE
The "Let's Wine" video is directed by Verdejo. It's based on a short film shot during his time at university studying History of Art. The aesthetic is a cross between that of a graphic novel and a roll of photo negatives. Verdejo called the short "Life Sounds", in which he captured the vital energy that surrounds us and how it influences each of us differently.
Recovering that project, Let's Wine inherits and relaunches its message, empowered by the essence of Oinoz: energy, identity… and wine.
OUR RIOJA RED WINES ARE MADE UNDER THE SEAL OF
Wineries for Climate Protection
guarantees our commitment to
SUSTAINABILITY AND THE ENVIRONMENT
The role of OINOZ labels is FSC certified, it is our
ENVIRONMENTAL COMMITMENT
Our wineries are committed to
implementation and use of
RENEWABLE ENERGY SOURCES
Bottles that contribute to achieving a
LESS ENVIRONMENTAL IMPACT