OINOZ IS COMPOSED OF THREE WINES
THAT COMPLEMENT EACH OTHER IN A WAY
THAT ONLY REAL TALENT CAN DO.
Together, they've made wonderful creations, but the true leap in quality comes from the leadership shown by producer,
Carlos Moro
, who manages to compose the essence of OINOZ and enhance it with his own unique style.
His recording studio is located in
San Vicente de la Sonsierra
, in the heart of
Rioja Alta
, the land of the distinctive wines which forged the group's personality. OINOZ aspires to become a benchmark on the national scene.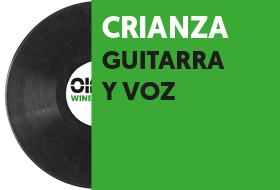 The energy and rebellious nature of the group. The distinctive Rioja taste.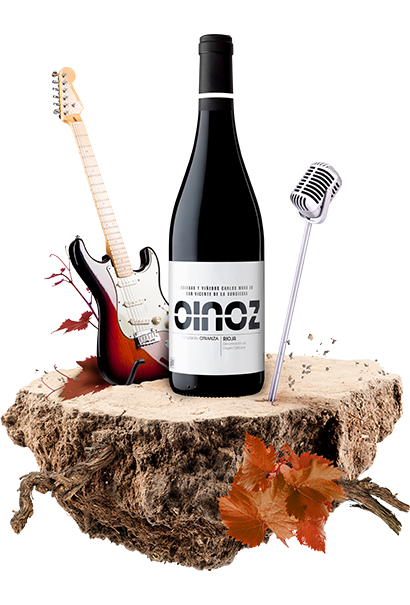 As an artist…
Crianza was born in San Vicente de la Sonsierra, a quintessential winemaking town in Rioja Alta. He was a student of the strict Mennais Brothers of Santo Domingo de la Calzada. His parents instilled discipline in him, though in his adolescence he enjoyed the freedom to choose. One of such choices was to take a gap year, in the middle of his studies in Hispanic Literature at the University of La Rioja, to go out and explore the world. Hence his nickname, Gallomate.
Musically, he draws from alternative rock

and its successors

, and uses formations that combine

the traditional with new trends.
Among his main influences, he names poetry from Leopoldo Panero

, urban art by 'El Niño de las Pinturas', and 'The Kiss' by Klimt, one of the most beautiful paintings ever seen.
His guitar and vocals provide the energy that Oinoz needs.

As a wine…
Crianza is smooth and elegant. Oinoz Crianza comes from vineyards ranging from 25 to 80 years old, in Rioja Alavesa. This 100% Tempranillo is perfect for accompanying cold meats, soft cheeses, white meat, and oily fish. Its aromas are reminiscent of fruits like raspberries and blackberries, childhood liquorice sticks, white pepper, and even eucalyptus. Additionally, it is aged in French and American oak barrels, which adds a light toasted flavour.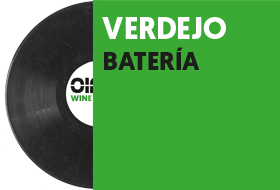 All the brightness and sophistication of Valladolid.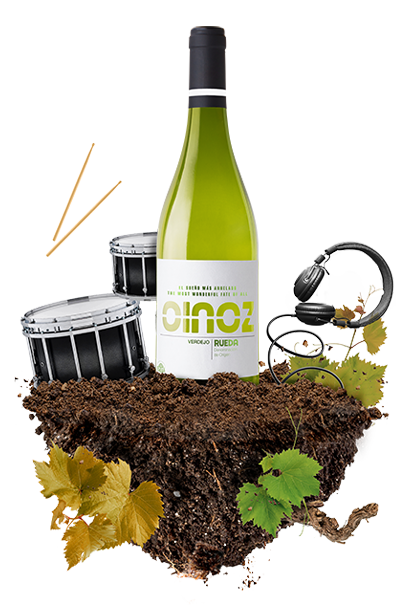 As an artist…
Verdejo comes from Villalba de Adaja, a district in Valladolid. Although he was born in Castilla y León, Verdejo sits perfectly alongside the rest of the Riojan group. He grew up in the city, hence his intense, open character. Showing a curiosity for the arts from an early age, he began to study guitar and act in his school theatre group, which he stayed with until he left for university. There he created an independent music group, with classmates from the History of Art department, which they called "Las Marcas". He started to develop his musical creativity and his compositions began to flow. During a Las Marcas performance in La Sala Negra in Logroño, he met Crianza. They spent time exchanging ideas from a distance and even created a small piece, before deciding to create Oinoz.
Musically, Verdejo's mixture of styles and curiosities provides various bright, strong nuances. Drumsticks in hand, he combines simple, intimate melodies

with others more intense and elaborate

. The sound of the ukulele adds rhythm, light and energy

to the darkest—but equally rewarding—parts

. A clean, bright mix with a note of dark acidity. Pure sophisticated energy.

As a wine…
Verdejo is fresh, smooth, and elegant. A monovarietal whose aromas evoke tropical fruit or fresh grass. This Verdejo de Rueda, a straw yellow colour, is made using grapes from vineyards in Valladolid, owned by the winery group. A wine like Oinoz Verdejo is perfect for accompanying any type of fish, seafood, pasta, rice, etc. This Verdejo wine should be enjoyed very cold.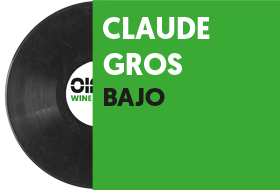 Rhythmic baselines dressed with style, French style.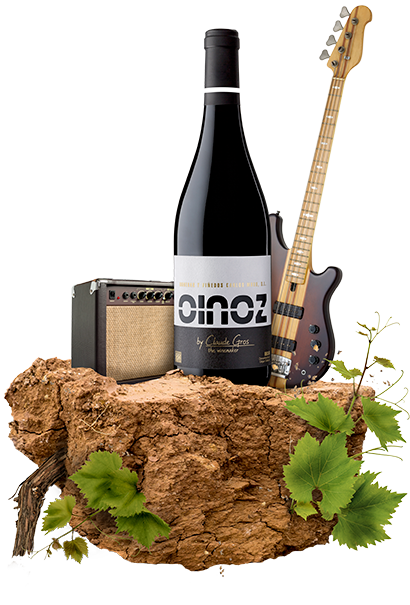 As an artist…
He was too young to have a PhD in Philosophy. He wasn't a bad student, but he lost interest easily and spent his time focusing on more important subjects. Knowing what type of minerals flourish in San Vicente de la Sonsierra might be fine for some, but he preferred to ask himself if the teacher was boring on purpose, or if it were the result of frustration and stagnation. It's possible that, without realising it, his passion for Albert Camus' modern existentialist thought began right there. Sociable and more restless in mind than movement, he founded several bands as a bass guitarist. The one that had the most impact was "La Rad", created during his years at university in Montpellier. His secret was fusing punk with rhythms from other genres. And it was astonishing! He first met Crianza at an indie concert at the Sonorama Festival, and in that meeting the first seeds of Oinoz were planted.
In his room, he created a studio where he recorded the first Oinoz demos. The idea for each song developing in his mind. He's influenced by both timeless international superstars

and local bands

who achieve great success with much fewer resources.
As a musician, he loves mixing contemporary chords

with teachings from the great masters

.

As a wine…
Claude Gros has received numerous international prestigious awards and is defined by its creator as "an elegant red with Burgundian roots". Oinoz by Claude Gros is a wine made from 100% Tempranillo grapes, from old vineyards up to 80 years old, carefully cultivated to produce the best Rioja wine. Its aromas are reminiscent of ripe red fruits, such as blackberries and currants. These fruits coexist with the scents produced by ageing in barrels, such as black pepper, chocolate, and toffee. This signature wine from La Rioja is perfect for pairing with roast suckling pig or lamb, rack of lamb, game stew, pâté, or stuffed aubergine.