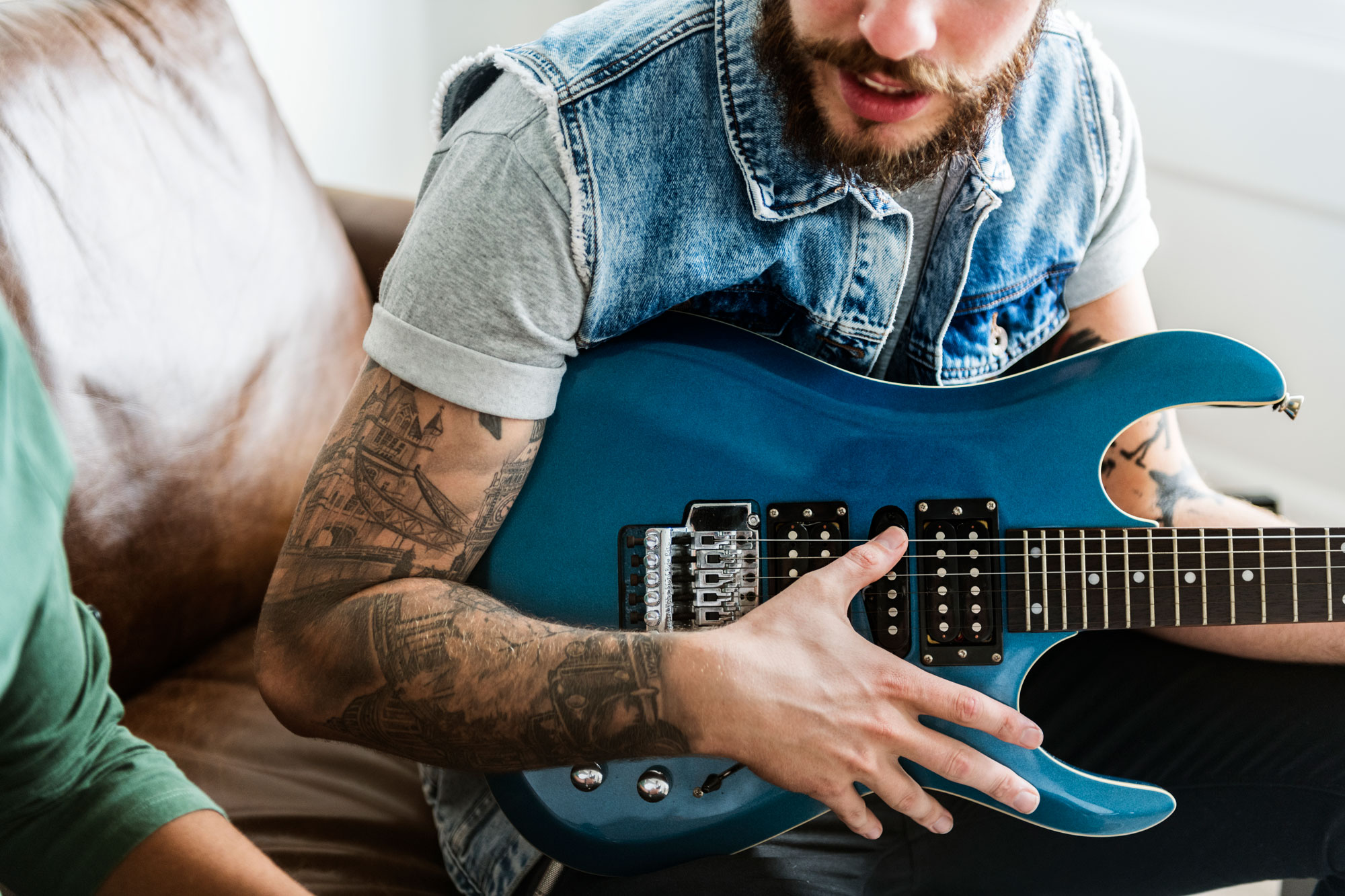 Today we'd like to talk about musical essence, which, as you may remember from our last post, was one of the six key things we think a band should have.
No one can dispute how important it is to differentiate yourself from others in any discipline. In fact, that was the main reason why we formed our group. Despite the—many, many—influences we've had, Crianza, Verdejo, and Claude Gros never stop studying, learning, and growing as musicians. That's what life is all about: follow the path, but never stop noticing the signs.
It's true that we've tried to mould our style using refined techniques from some of the musical greats—because we enjoy learning them!—like their way of writing… but we've always wanted to be different. And we're working on it.
Pau Donés. In memoriam
Starting on our journey of reflection, we wanted to take a moment to talk about the recent death of singer Pau Donés, leader of Jarabe de Palo, because it has made us reflect even more than normal. Did you notice how his death affected almost everyone you know?
And why that is? Ultimately, it's because the singer–songwriter accomplished something that not many people achieve in the complicated world of music: he was unique, recognisable, and had his own musical essence. And that's even with, if you'll allow us our little joke, him dedicating an excellent song to Agua, but not to wine, as we would have preferred. Well, no one's perfect.
For his music, for the way he was, for the way he handled adversity, and, above all, the way he stood tall in the face of a disease as tough as cancer, Pau Donés had to have a place on our blog. Him, his group, and his music.
Strive to stand out

Media theorist Marshall McLuhan claimed that, "Having adapted Beethoven's Ninth Symphony for Fantasia, Walt Disney commented, 'Gee, this'll make Beethoven.'"
So, a piece of music that had been played since 1824, the symphony considered to be the German composer's masterpiece, was recovered more than a century later (1940) to bring life to the first great animation film in history.
Despite Disney's audacity, this case summarises the learning process that every content creator has to go through. In other words, it's not about plagiarism, it's about being strict with the work. But, even if you manage to find your essence, from all the training you've done, you'll still have a long way to go.
There are those who, by decree, will discard any remarkable work that doesn't fit with their style, ideology, or thinking. However, we are a sea of empaths (another of the key points we recommended for forming a band), and we listen to everything. For obvious reasons, we can't say that we drink from all fountains but, metaphorically, we do.
As we said before, it's not about plagiarising (as journalists say), but about absorbing the best of what's out there, in order to forge our own identity.
The 50 Most Important Rock Musicians
And to this end, what better way to learn than to focus on the best of the best. In the December 2010 American edition of Rolling Stone, one of the most influential magazines in the world of music since the late 60s, they published a list of the 100 Greatest (Music) Artists (oh how we love these lists!). It was curiously different to the one which appeared in the Spanish edition a year earlier, which featured half the number of artists. Here in Spain, it was titled the 50 Most Important Rock Musicians.
On the list from the US edition, which you can see here, the ten top positions were held by these industry heavyweights, primarily due to their influence:
10. Ray Charles
9. Aretha Franklin
8. Little Richard
7. James Brown
6. Jimi Hendrix
5. Chuck Berry
4. The Rolling Stones
3. Elvis Presley
2. Bob Dylan
1. The Beatles
The list varied a little in Spain, but the essence was much of the same:
10. Madonna
9. Bob Marley
8. Jimi Hendrix
7. Michael Jackson
6. John Lennon
5. Elvis Presley
4. Bob Dylan
3. Bono
2. Mick Jagger
1. Bruce Springsteen
It depends how you look at it
In other words, the same magazine had a different take on the same subject, depending on the location. Because Chuck Berry does not hold the same weight in Spain as Madonna, for example. Although, Madonna—an influential woman wherever you are—being ranked among the 50 most important rock musicians… Well, that's a little strange, without meaning to be argumentative. But, back to our point: we've been able to learn something from all these musicians. And we've observed the identifying traits of each one. 
As an example, we're going to focus on the Spanish list, and you'll see how we put these details into context:
Madonna
The Blonde Ambition star kicks off our list and, like our Lola Flores, she'll die with her boots still on. She has been much more than an icon for so many groups, such as the LGTBQ community, who idolise her. During the 80s, with a laser focus on achieving success, she rose to become the "Queen of Pop" and her tours became global events. The diva was so famous that her concert on the 1st of August, 1990, was broadcast on prime time Spanish Television for everyone to see. Something which would be unthinkable today.
Bob Marley
Considered the quintessential Rastafarian and a Jamaican icon, he is the true messiah of reggae. In fact, the musical style would not be the same without this artist, who also influenced other disciplines—such as pop and rock—and who died young, but left us with an overwhelming legacy, especially The Wailers. The world would not be the same without No Woman, No Cry or I Shot the Sheriff.
Jimi Hendrix
Legend has it that Robert Johnson sold his soul at the Devil's Crossroads in exchange for his unique skill playing the guitar. If this was really so, we cannot imagine what Jimi Hendrix, another countercultural figure from the 60s, must have had to do; he, who was one of the first members of the famous 27 Club (a list of rock stars and other artists who died under different circumstances at the age of 27). But the reality is that this bluesman, who played the Stratocaster guitar like no other, a Seattle native, just like later leading groups such as Nirvana or Pearl Jam, was a trendsetter, who never missed any of those first early rock festivals, and much more than just a musical icon.
Michael Jackson
 With Jackson, what happened was similar to the feeling you have when you don't pay much attention to something, but when you lose it, you miss it tremendously… Sound familiar? The artist who, as a child, stood out and made huge profits for the music industry, has been stigmatised in recent years, and with good reason. But herein lies the eternal ethical dilemma between the artist and the person… Where we're going with this, without delving too deep into it, is that MJ was and continues to be the rightful King of Pop. Motown squeezed a lot out of him, but he later released some of the most important records, in terms of sales and quality, in the history of pop music. We're of course talking about Thriller, Bad, and Dangerous.
John Lennon
We have to warn you, we're huge fans of The Beatles. And, to be honest, we would have snuck Paul McCartney onto either of those two lists. Not to mention the great George Harrison. Some of the best songs of the 20th century came from the Lennon-McCartney duo. And Lennon has undoubtedly influenced millions (yes, millions) of bands around the world. His exceptional mind, his way of seeing the world, his sensitivity, his talent, and his social commitment, turned the young man with the round glasses—or teashades (sorry, this is another one of his hallmarks)—into a cultural reference that will stand the test of time. In the future, when they talk about the greatest musical artists of the 20th century, they will speak, without a doubt, of the English singer who was fatally shot in the archway of the Dakota.
Elvis Presley
The King of Rock was a true social whirlwind for many years, particularly in North America, where the nascent phenomenon of rock and roll became the disruptive model for youth becoming adults who, additionally, were a product of the complicated years following the Second World War. Elvis changed everything. He was probably music's first media figure, someone that everyone knew everything about… And, as if his music were not enough, his films catapulted him to global stardom; the perfect complement to a career that was declining in parallel with his life. Despite this, his legacy is colossal. He knew how to combine his talents for singing, dancing, and playing the guitar and piano with an image that could be sensitive, combative, and even ground-breaking for the time.
Bob Dylan
There are some Bob Dylan moments that everyone remembers… That concert in Newport, where he performed on the electric guitar for the first time and was booed by so many because they believed that this broke the rules of the folk music the singer was famous for. Or the time when he was awarded the Nobel Prize in Literature but failed to attend the awards—his friend Patti Smith collected the award on his behalf. But no one doubts the interpretive potential of the unique, introverted guy who has been on stage for a lifetime and has recorded timeless classics such as Blowin' in the Wind and Knockin' on Heaven's Door. A real musical automaton who has won over his critics and the public, and continues to be a benchmark for any self-respecting musician.
Bono (Paul Hewson)
The guy who, in the 80s, surprised the world in a white tank top, and who, in the 90s, dazzled with his band, U2, with one of the best records of all time—yes, we're talking about Achtung Baby! He went from being a musician to becoming a cultural reference and even an influential political activist for many causes. Bono can safely say that he has been everything he wanted to be. Together with The Edge, Larry Mullen Jr., and Adam Clayton, he has created legendary shows that everyone wants to attend, even if they don't like his music (which is something they should be forced to reconsider!). But he was also the guy who wanted to inject power into colossal records like War, and he did; calm into The Unforgettable Fire, and he did; experimentation and change into Pop, which came out perfectly; maturity into All That You Can't Leave Behind, and the whole world surrendered to his talent. Bono's personal brand is so powerful that even the talented young stars of the Spanish comedy series Muchachada Nui imitated him… And very successfully, too.
Mick Jagger
They say you haven't lived if you haven't seen The Rolling Stones in concert. We wouldn't go that far but, if anyone has a reputation for being energetic on stage, it's Mick Jagger. Lest we forget that Maroon 5 even wrote a song called Moves Like Jagger… Sometimes, a young Jagger even seemed possessed! And not to pull you from your reverie, but he's already been sporting grey hair for several decades now. The album Their Satanic Majesties Request, released in 1967, confirmed that this band was a whole new beast, unlike anything we'd ever seen before. You could write an encyclopaedia on Jagger's life (you could trace the inner workings of his colossal ballad, Angie, for example), as well as that of his partner, Keith Richards. Because music, rock music, like life, puts everyone in their place. And 20th-century music would be much less musical without this frontman and his band. 
Bruce Springsteen
Our list would probably not be topped by the most famous musician to come out of New Jersey (with the exception of Bon Jovi's perfect mane), although he would definitely be among the Top Ten. Funnily enough, the artist who wrote the great American anthem Born in the U.S.A., with clear political connotations, has had more phases of mainstream popularity outside his country than in it. As you well know, he's a methodical, seasoned type of guy, who everyone remembers for his concerts, and who could be defined as the hardest worker in rock music, partly thanks to his band. In recent decades, he has stood out for creating traditional rock and roll music with conscious, engaged lyrics. For example, do you remember what Streets of Philadelphia was about?
In short, these are just ten examples of great artists who have each been influential in their own right, with different musical conditions and expertise, and in different contexts. But, we can learn something from all of them. One thing in particular: each artist has their own identity. And each one of them has set trends and earned millions of fans. They have been a beacon for other musicians—us included—and their legacy will not be forgotten soon.
NO TE PIERDAS LAS ÚLTIMAS NOTICIAS